Make a donation this Tuesday December 1st and make a difference in the lives of little girls in Guatemala and their families. We have been so fortunate to keep feeding the girls since the pandemic began and have expanded to include their families, many of whom are unable to work due to the crisis. Please watch the videos of our monthly deliveries to learn the impact your donations make. We have provided food, nutritional supplements, desk for studying, handmade washable IMA masks for the health and protection of the girls, distance virtual learning, glasses and more!
Our Guatemalan staff is changing lives everyday a financial donation is just one way to help, but a not insignificant one! We want to continue our work and expand to meet the needs of our community included medical, nutritional, educational and job training.
We are working on sustainability project including expanding our capacity to grow our own food via permaculture on the school land.
Donations made early in the day are matched by PayPal via our website or facebook via our page their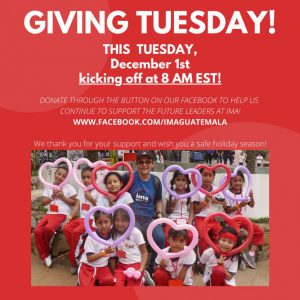 .
We shared updates and photos frequently on facebook and instagram.
Visit our How to Help page to learn of other ways to get involved and make a difference including projects to fundraise for, how to spread the IMA family story, and ways you can serve from abroad in the US.